BOTOX parties are on the rise in Queensland, but doctors have urged caution, saying they were regularly called on to fix botched Botox procedures.
Botox party host Claire Licciardo and Hollie Anderson, who says the parties are less intimidating than visiting a clinic.
BOTOX parties are on the rise in Queensland, as everyone from brides-to-be to high-flying lawyers look for a cheaper, more convenient way to turn back the clock.
But specialist doctors urged caution, saying they were regularly called on to fix botched Botox party procedures undertaken by unqualified practitioners.
Cosmetic Holidays International managing director Claire Licciardo said there had been a surge in demand for at-home cosmetic injections in the past few months, and she was now hosting as many as three parties a week with a qualified doctor in southeast Queensland.
She said men in their 40s, lawyers, businessmen, gym owners, strippers and bridal parties were just some of the people flocking to attend parties, at which she said it cost $8 a unit for anti-wrinkle treatments and about $400 for lip fillers.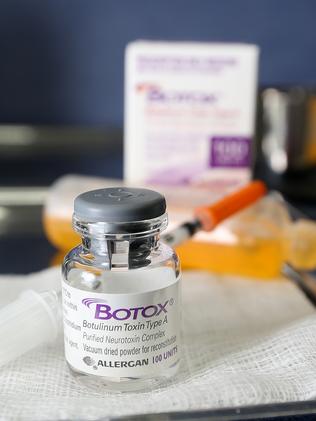 An internet search turned up evidence of other clinics and registered nurses who are willing to host at-home Botox parties
The parties usually last for at least three hours and Ms Licciardo travels to customers' homes with a doctor registered with the Medical Board of Australia who can administer cosmetic injections and dermal fillers. The venue host receives a discount.
Ms Licciardo enforces a six-person limit at her parties and said for safety reasons, the consumption of ­alcohol was not allowed.
"I'm not going to boss people around, but we're very clear," she said. "We prefer people not to have ­alcohol before.
"What they do after we leave is none of my business."
Hollie Anderson, 27, plans to host a Botox party and said it was less intimidating than visiting a clinic.
"Plus, we can make an evening of it," she said.
Mishaps don't just happen at Botox parties. Lawyer Raluca Crisan claims this reaction was the result of mistakenly being injected with snake venom – in a clinic.
Brisbane Skin director and specialist dermatologist Shobhan Manoharan said he'd been approached to give injections in a party setting, but said it's something he would not do as patients could not be sure what was being injected and a home wasn't as sterile as a clinic.
He said he regularly sees patients with complications from a Botox party and was especially concerned that the parties were expanding to offer fillers, which could cause serious issues, such as tissue death.
He said that while smaller complications tended to be more common, poor injection skills could lead to brow drops, dribbling problems, and even blindness.
"I've had patients who have had to fly in (to Brisbane) from North Queensland to see me because of a Botox party injectable complication there," he said.
Queensland Health also warns against the practice.
Ms Licciardo, who has worked in the cosmetic surgery industry for years, said Botox parties sometimes got a "bad rap", but she'd only ever work with a registered doctor. 
Story was published in The Courier Mail